How a Stressed-Out and Busy Mother Lost 14 Pounds and Opened a Thriving, Profitable Studio from Ground Zero
Only a few years ago Catherine Gordon was an overworked, stressed out mom towing her kids around town. One day she and her son walked into a busy grocery store. As they were checking out, the cashier uttered this life changing line:
"Ma'am, do you qualify for our senior's discount?"
Horrified and deeply embarrassed, she shook her head, fighting back the tears of frustration and shame.
She was only 45 years old.
That day she decided to change. She went online. She stumbled across my Turbulence Training Transformation Contest.
"I was starting to lose hope but then I saw a picture of Emily Johnson, the winner of Craig's first Turbulence Training Transformation Contest," Catherine said. "Something about her before and after pictures made me believe that if she could do it, I could get a great body too."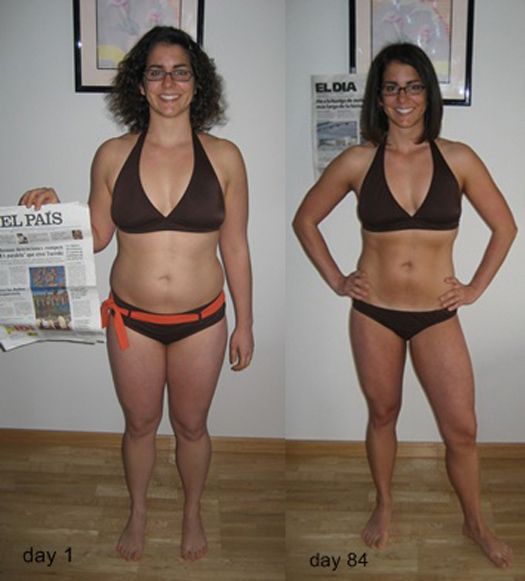 Emily Johnson
Winner of 1st Transformation Contest
Catherine Gordon
Winner of the 2nd Transformation Contest
And the rest is history.
"When I entered the contest I weighed 147 pounds," Catherine said. "Twelve weeks later I had lost 14 pounds of fat, gained muscle, and lost over 6 inches off of my waist, and 3 inches off of each thigh just. Due to the amazing changes in my figure, I won the contest, and my life was transformed."
Catherine set herself up for success. She transformed inside and out. Friends and neighbors said she looked 14 years younger, and Catherine had regained her confidence and zest for life, while eliminating stress and shedding her excess weight. Catherine even ended up being featured on ABC news about extraordinary physical transformations.
And like many heroes, Catherine realized that she was meant to be a beacon for others, people who are lost, who are struggling, and who feel like they are alone against impossible odds.
Catherine wanted to inspire women to change their lives just like Emily Johnson had inspired her. She wanted to help men and women that battled sugar addictions, negative environments, and stubborn body weight. She wanted to show people how they could quickly and easily transform their lives once they had my 5 Pillars of Transformation to support them.

How the TT Certification Changed Everything
Within months Catherine passed her beginner's personal trainer certification. She started teaching Zumba and dabbled in a few other types of training like yoga, pilates, and aerobics classes, all those mainstream but often ineffective approaches that are recommended for weight loss. But she was disappointed and depressed by the results her clients achieved – or more accurately, failed to achieve.
Catherine realized she needed better systems and done-for-you workout solutions to give her clients, as well as proven techniques for attracting more women into her small but growing part-time personal training business.
That's when she returned to me and my newly released Turbulence Training Certification program.
She knew that in order for her clients to get the same results as she did…they'd have to train the same way she did.
That was an even bigger breakthrough than winning the Transformation Contest. Suddenly Catherine had all the tools she needed. Everything about the TT Certification was better. It gave her a huge advantage in terms of client results and in her ability to attract new members to her business. It gave her everything that she needed to stand apart from all other certifications and programs in her town.
From there she built the confidence to go out on her own, setting up a studio in the small town of Sonora, California. That's where women now flock to work with Catherine, and where she encourages them to join my Transformation Contests just like she had a few years before. One of her clients, Melinda, won a contest and the $1000 prize. Another, Sandra, came in 3rd.
Catherine getting my TT Trainer of the Year Award
"My clients' success helped my business grow," Catherine said, "Soon word of mouth was spreading, and the local paper featured me and my studio."
The TT Certification was the final step in the journey of Catherine's body and life transformation. By the time she attended the 3rd Turbulence Training Summit in June of 2013 (a gathering of TT Certified Trainers from all over the world), her little studio had grown to more than 150 clients.
She was rewarded for her success. At the 3rd TT Summit, Catherine Gordon stepped on-stage in the same year as she celebrated her 50th birthday and won the TT Trainer of the Year award.
Because of her success, Catherine has a message for you. "I have a passion for fitness, and I'm sure you do too. What could be more gratifying than to see people get fit and have a new zest for life, in spite of the temptations of the modern world? Be the bright spot in a world that sometimes wants to give up on healthy living, by proving what the best training and fitness programs can do."
Catherine became a Fitness Hero in her hometown and among the hundreds of Certified Turbulence Trainers assembled at the TT Summit.
Become Your Hometown Hero
Catherine's story of success can be your story of success.
As you can see from Katie, Ali and Catherine – they all started out with a passion and desire to help others. Just like you.
While their paths were quite different, they all had one common denominator in their transformations…
The World's Only Transformation Training (TT) Certification is NOW Available for You
The Transformation Training Certification was created by Craig Ballantyne, CTT, one of the world's leading weight loss experts and fitness guru. You've read his articles and used his workouts in Women's Health, Prevention, Oxygen, Men's Health, Men's Fitness, and dozens of other magazines. His unconventional but effective short, burst, workouts have been used by millions of people around the world to finally lose weight and get back in shape fast – all without the dishonor of doing slow, boring cardio or hundreds of ab crunches or sit-ups. Your TT Certification is based on cutting-edge scientific information delivered in an easy-to-apply manner. Within each program is an effective blend of knowledge, theory, skill and practical application. This certification is for anyone who is looking to gain a competitive edge on their competition. It's simply the best of the best.
In the competitive world of health and fitness, you need to stand apart from the crowd.
Being average isn't going to cut it if you want to be like Katie, Ali & Catherine and transform thousands of lives and make a difference in the world.
Instead, you need to become THE weight loss authority in your town.
Being the top authority brings more referrals, consistent and loyal clients, higher prices, and countless opportunities knocking at your doorstep.
But how do you get there? How do you get to that point where you are the recognized fat loss leader in your community?
By ignoring what all the other trainers in your area are doing…because they haven't figured out yet what you are about to discover.
When it comes to getting results, you need to go to someone who combines both real-world experiences and the latest in scientific-based workout programs.
For fat loss, that's Craig Ballantyne. He lives and breathes the science of fat loss so you don't have to. That's why he's created the Fat Loss TT Transformation Certification—to spread the science of fat loss to trainers all over the world…
The Turbulence Training Transformation Certification Program is not like other generic certification programs. In fact, it's different for three major reasons.
What Separates the TT Transformation Certification from all others?
The Turbulence Training Transformation Certification is based on teaching fat loss workout program design. You can have the greatest health and fitness knowledge in the world, but if you can't properly put a program together, you'll never be a leader in your community. You will discover the 4 hot spots of the body that you must work in every workout in order to help your clients achieve maximum results. You will get a step by step template on how to put together the perfect fat loss workouts.
The second component that makes it much different from generic certifications is that the Turbulence Training Transformation Certification is based on bringing trainers the latest in fat loss science. Craig Ballantyne is researching every month, reviewing research studies, testing different methods, and talking to the top fitness experts in the field. This will allow you to practice what is working right NOW, not something that has been in a textbook for over three years.
The third and most important aspect of the Turbulence Training Transformation Certification that sets it apart from all other certifications is our 10 Million Transformation Mission. Our 10 Million Transformation Mission is to help 10 million busy men and women transform their lives by the year 2020. Whenever you become something bigger than yourself, like our 10 million mission, it brings everyone together for a greater cause. It's the only certification program with a transformation mission. With our mission of 10 million transformations, we have to come together and create programs that will help people lose fat, get healthy and dramatically improve their lives.